Partner
aziz@amiebensoudaco.net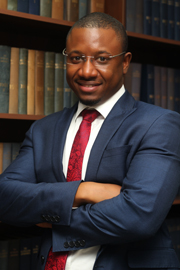 Mr Bensouda is a qualified Barrister and specializes in corporate and commercial law and Banking & Finance. He advises several financial institutions as well as corporations and investors to The Gambia. He specializes in corporate finance, m & a, investment matters, oil and gas and energy law.
Mr Bensouda's practice areas include corporate & commercial, telecommunications law, policy and regulation, competition law and policy and real estate.
Mr Bensouda was Secretary General of the Gambia Bar Association from 2012 – 2017 and is currently the Chairman of the Board of Effective Intervention.
In 2006 Mr Bensouda obtained an LLB honours degree from the University of Hull, England. He proceeded to a LLM Masters degree in International Economic Law from the University of Warwick, England. He attended Bar School at BPP College of Professional Studies and was admitted to the Bar of England and Wales in July 2008 and thereafter to the Gambian Bar in that same year.
Mr Bensouda became an Associate at Amie Bensouda & Co in 2008 after successfully completing his pupillage.
Mr Bensouda leads the Corporate, Commercial and Intellectual Property teams. Mr Bensouda also heads the firm's Sierra Leone and Liberia Intellectual Property Units.