Senior Associate
anna@amiebensoudaco.net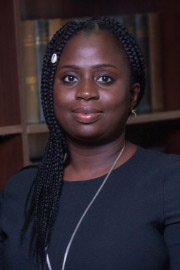 Ms Njie is a qualified Barrister and Solicitor of the Supreme Court of the Gambia and specialises in Civil Litigation. Anna manages the Litigation Unit of Amie Bensouda & Co LP.
In 2006, Ms Njie obtained an LLB Honours Degree from London, England. She later obtained a BA in Banking, Economics and Law at the London Metropolitan University, England in 2007 before completing her Bar qualification at the Sierra Leone Law School, Freetown Sierra Leone.
Anna was admitted to the Bars of Sierra Leone as well as The Gambia in 2009. She joined Amie Bensouda & Co LP in 2009 and became a Senior Associate in 2017. In 2019, she obtained an LLM in Employment Law from Middlesex University, England.
Ms Njie's practice areas include Litigation, Probate and Estate Administration, Labour & Immigration, Family Law, Real Estate & Conveyancing. Ms Njie has represented clients in several high profile disputes and litigation matters. Ms Njie is also a Human Rights activist and served as the Treasurer and Head of Legal Aid Committee of the Female Lawyers Association Gambia (FLAG) from 2013-2020.