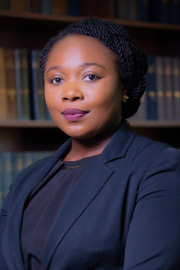 Ms Ceesay is a qualified Barrister and Solicitor of the Supreme Court of the Gambia. In 2017, Ms Ceesay obtained an LLB Honours Degree from BPP University in England. She completed the Bar at the Gambia Law School and was called to the Bar in 2019.
Ms Ceesay currently oversees the firm's Intellectual Property Units in The Gambia, Sierra Leone and Liberia. Her practice areas include Corporate and Commercial law, Banking and Finance, as well as Intellectual Property.
She has participated in cross border financial transactions and commercial acquisitions.
Ms Ceesay has acted as Junior Counsel in several commercial litigation matters. She specialises in trademark prosecutions, including trademark availability searches, filing and prosecuting trademark applications and attending to post-registration matters such as renewals and recordable. She is also a member of the Gambia Bar Association and the Female Lawyers Association.
She has assisted in consultancies to the UNDP and was part of the legal team assigned to the Commission of Inquiry into the financial activities of Public Bodies, Enterprises and Offices as regards their dealings with former executive government.