Associate
momodou@amiebensoudaco.net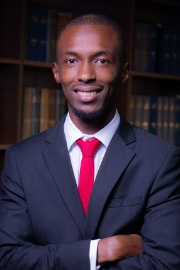 Mr Jallow is a qualified Barrister and Solicitor of the Supreme Court of The Gambia. Mr Jallow obtained an LLB law degree from the University of The Gambia in 2014. He later attended Bar School at The Gambia Law School in late 2015 and was admitted to the Gambian Bar in 2016.
Mr Jallow Joined Amie Bensouda & Co LP in 2015. He later became an associate in 2016 after completing his pupillage. His practice areas include Immigration, Real Estate, Arbitration, Tax and Corporate Advisory. He also specializes in Litigation Practice, particularly Criminal, Civil Litigation and Islamic Law.
Mr Jallow has participated in several complex commercial litigation matters and assists international organizations and law firms on immigration matters and anti-corruption regulatory advice.
Mr Jallow is also a member of the Gambia Bar Association.